It's Edinburgh, it's August and that means festival time – the city is bursting at the seams with the Edinburgh International Festival The Art Festival, The Edinburgh International Book Festival and, of course, the world's largest arts festival, the Fringe.
And that means me taking a lot of photos, mostly on the Royal Mile, where the performers traditionally congregate to try to build an audience – with hundreds of shows you really have to fight for bums on seats at the Fringe, and a lot of shows often don't get many while others sell out, so being noticed is all important, with many out in costumes and make-up, others perform small snippets from their shows on the wee stages set up along the Mile, and it's just packed pretty much wall to wall on the section of the Mile along by the Cathedral. Happy hunting ground for taking pics, first year I have been using the new camera, which is still a bridge camera but with manual zoom and manual focus, which has been a real boon, much quicker and easier than relying on auto-focus, especially in a busy, chaotic street environment with lots of movement of folks.
As always click the pics to see the larger sized versions over on my Flickr photo stream.
That manual zoom and focus is proving damned handy for taking quick shots of moving performers, and the larger zoom means I can get in a bit closer for capturing this kind of shot: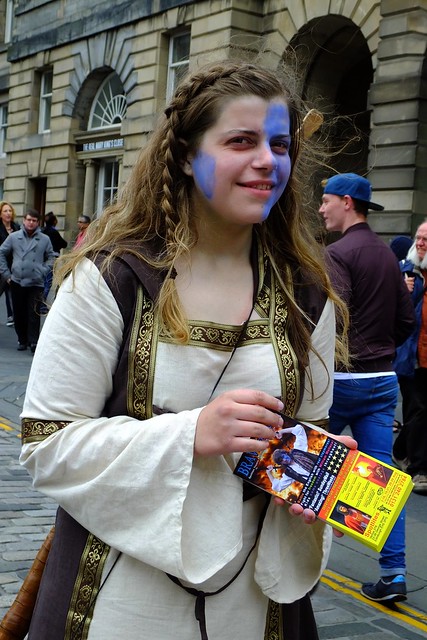 Sometimes masks must be used to protect the innocent…
Plenty of singing on the Fringe too:
Not to mention dance:
And some enchanting smiles
Watched over by the Fringe Police! You picked the wrong festival to haul ass through, boy!
And of course there is some clowning around